Delta Machine Vision Systems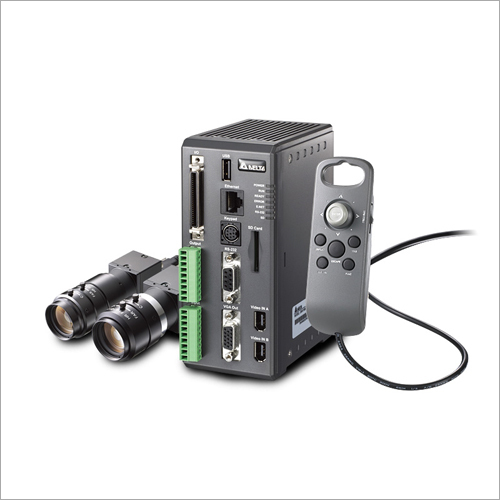 Delta Machine Vision Systems
Product Description
Backedby a team of experienced professionals, we are offeringDelta Machine Vision Systems, that aredemanded for industrial automation applications on the production line, such asstain inspection for product quality check & exterior size measurement. To meet the international standards, Delta Machine Vision Systems are stringently tested on various parameters. Weoffer this system in specifications to meet the diverse needs of the clients'.
DMV1000 Series
The Delta Machine Vision System DMV1000 Series provides a user-friendly interface for image processing. With simple steps, the DMV1000 Series captures images via the IEEE 1394 digital camera with 400Mbps high-speed transmission capacity. After capturing images, the built-in high-speed image processing system simulates various inspection functions including area detection, edge position, distance, counting, angle, stain, blob, comparing, OCV, coordination and edge angle, meeting the requirements for a variety of visual inspection applications.
The DMV1000 Series features smart image processing, and also supports various I/O input and output interfaces for connecting external sensors, triggering light sources, cameras, data links and more, to reduce hardware installation costs. The DMV1000 Series adopts the most frequently used industrial communication protocols, including RS-232, RS-485, industrial Ethernet and I/O communication interfaces, allowing the inspection data and results to transmit quickly and precisely to the master controller. In addition, the DMV1000 Series offers various accessories including cameras, lenses, light sources and more for users to build a high-precision, flexible, and network-based machine vision system.
Â
DMV2000 Series
The latest Delta Machine Vision System DMV2000 Series provides a smart and user friendly operation interface with high-speed, high-precision, and multi-processing capabilities. It supports a multi I/O input and output communication interface, and standard industrial network interfaces including Ethernet, RS-232 and RS-485, to ensure product quality and enhance overall production efficiency with outstanding machine vision inspection capabilities.
The DMV2000 Series adopts asynchronous processing capabilities, and can operate multi-camera tasking. In addition, it adopts a variety of visual inspection functions including high-speed camera with Camera Link interface, color inspection, 1-D and 2-D barcode reading, and lens and perspective distortion calibration. Matched with an enhanced CPU processing speed, user-friendly UI interface and various extension modules, the DMV2000 Series is a flexible, high-efficiency, and high-performance machine vision system.
The DMV Series can be effectively applied in a variety of industries, including general industrial machinery, automotive, rubber and plastics, pharmaceuticals, food, printing, packaging, metal processing, robotic arm integrated applications, TFT, semiconductors, solar energy and other related electronics industries, producing a high yield rate with excellent quality.
Â
Machine vision systems dealersn in nashik Maharashtra, Machine vision systems delta.
Contact Us
Plot No.53 & 54, Survey No.156/2/2, Shree Guru Gajanan Industrial Area, Vilholi , Nashik, Maharashtra, 422010, India
Phone :+918045811537